A dog.
A winning combination.
Mayra Calvani's latest picture book, CRASH, is the delightful story of a boy named Marcelo, whose mom and dad give him a golden retriever puppy for his fifth birthday. Marcelo says "this is the happiest day" of his life. The puppy loves Marcelo as much as Marcelo loves the puppy.
Marcelo bathes his puppy, brushes his puppy, and feeds his puppy. They play and go for walks. Marcelo teaches his puppy to obey him. They are best friends. But the puppy needs a name. And not just any name, but the perfect name for this special puppy. Marcelo thinks and thinks. Mom and Dad make suggestions. But none of the names are right. Then one day, when Marcelo and the puppy are playing, Marcelo discovers the name that fits the puppy perfectly.
Oh, no. I'm not saying. You have to read the book to see what it is.
CRASH will capture the attention of young puppy lovers who will read the story of Marcelo and his special puppy over and over, or have their parents read it to them. Watch out, Mom and Dad, because your child will be asking for a puppy just like Marcelo's. The accompanying artwork adds to the story with priceless expressions on the characters' faces, setting the mood and tone of the story. Give this book to all your little readers and pick up a copy for yourself. You'll be glad you did.
• Paperback: 24 pages
• Publisher: Guardian Angel Publishing, Inc (March 25, 2008)
• Language: English
• ISBN-10: 1933090545
• ISBN-13: 978-1933090542
Mayra is giving away a $20 gift certificate from Almost Heaven Golden Retriever Rescue and Santuary gift shop:
http://www.almostheaven-golden-retriever-rescue.org/giftstore.html
on this tour. Crash! also has its own blog
http://www.crashthepuppy.blogspot.com
, with reviews, dog coloring pages, games and activities for kids. Also be sure to check her tour page at
http://virtualbooktoursforauthors.blogspot.com/2008/05/crash-virtual-book-tour-08.html
for more information.
Also, Mayra will be donating 50% of her royalties to Almost Heaven Golden Retriever Rescue and Sanctuary, Inc., a non-profit organization: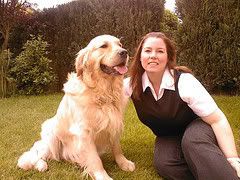 Multi-genre author, reviewer, dog lover and animal advocate Mayra Calvani hails from San Juan, Puerto Rico. She's a regular contributor to Blogcritics Magazine and American Chronicle. When she is not writing, she enjoys reading, playing the violin, interviewing other authors for her blogs and newsletters, watching reruns of Gilmore Girls, and walking her golden retriever, Amigo. She's the author of the picture book, The Magic Violin, also published by Guardian Angel Publishing.
Visit Mayra at:
http://www.mayracalvani.com
http://www.mayrassecretbookcase.com
http://www.mayrassecretbookcase.blogspot.com
http://www.violinandbooks.wordpress.com
http://www.thefountainpennewsletter.blogspot.com
A boy.
Current Mood:

happy